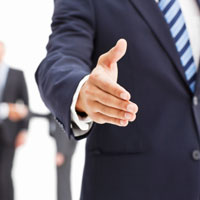 We offer all Licensed Realtors a $250 referral reward when you refer us a rental property owner/investor with whom we sign a Property Management Agreement.
At One Focus PM, relationships are paramount to us. We understand the value of communication and protecting the relationships you have created with your clients over the years. That is why we developed our Agent Referral program to let you as a real estate agent focus on sales, and you can rest assured your clients have the care and support they need with a property manager.
We have only one focus – property management, and we have designed our Agent Referral program to give the same level of care and attention you would give to your clients. We are committed having a full-service property management solution that takes care of the property from start to finish.
Our pledge is to support to your client and smoothly transition them back to you once they are ready to buy or sell. As property management specialists, we only focus on property management and will never take your client away from you. We are your best resource in property management. Contact us today to find out how we can mutually work together and combine our complementary services.
We Buy Management Accounts
Tired of property management altogether and want to get out of the business? We can help and are always interested in expanding our portfolio. We have bought out other companies in the past and can make the transition effortless. Please contact Jennifer Ruelens to set up a confidential meeting.
Not a licensed Real Estate Salesperson but want to make a referral to us? Contact our Business Development Manager at support@onefocuspm.com or (570) 505-3347.